FOR IMMEDIATE RELEASE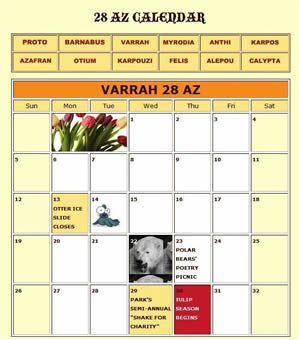 The Board of Governors is pleased to announce The Park Museum's acquisition of the last printed copy of the Varrian Calendar.
In a statement released today, The Board of Governors confirmed that the calendar, which is The Park's original calendar, will form the centrepiece of an exhibit that is, tentatively, entitled "Eventualities and Artifacts."
"The exhibit will trace the beginnings of zoocracy in The Park through an exhibition of artifacts, that is, concrete representations of the change from a more natural order to an artificially organized one. The Varrian Calendar will represent Park Animals' attempts to delineate time and, eventually, to harness it," the statement said.